How to create trend reports, athlete profile reports, and comparison reports in the Hawkin Cloud
For reports that include comparisons to populations, please note that multiple data points are needed to ensure the reports are accurate. I.e. a trend report with 1 session worth of data won't be particularly useful.
---
To create reports, click the report tab in the navigation menu and select the corresponding report:

Select the report.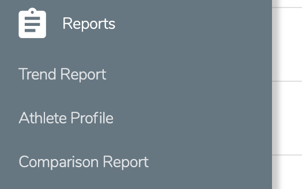 Trend Reports
Hover over the report button in the navigation menu to expand it out - then select "Trend report.
Choose the type of trend report you'd like to generate - options include

Team - look at how metrics are trending over time for a specific team within your organization
Group - see trends for group populations within your team
Athlete - see trends for an individual athlete on your team

Select the test type and any appropriate tags
Select one or two metrics
Select the start and end dates
Your Trend Report will generate automatically - it will provide the average, maximum, and minimum for each metric over the selected period. Flip the switch in the upper right hand corner to format the report into a PDF, and add notes on the left. To download the PDF report, click the download button below.


Athlete Profile
Select "Athlete Profile" in the navigation menu
Choose the graph type you'd like to use - Radar or Bar


Select the athlete you'd like to profile
Choose a minimum of 3 (maximum of 6) metrics for the profile.

Note, you can include metrics from different test types within the same report, and have the option to select specific tags.
If you're using metrics that are negative values, use the inverse scoring option to invert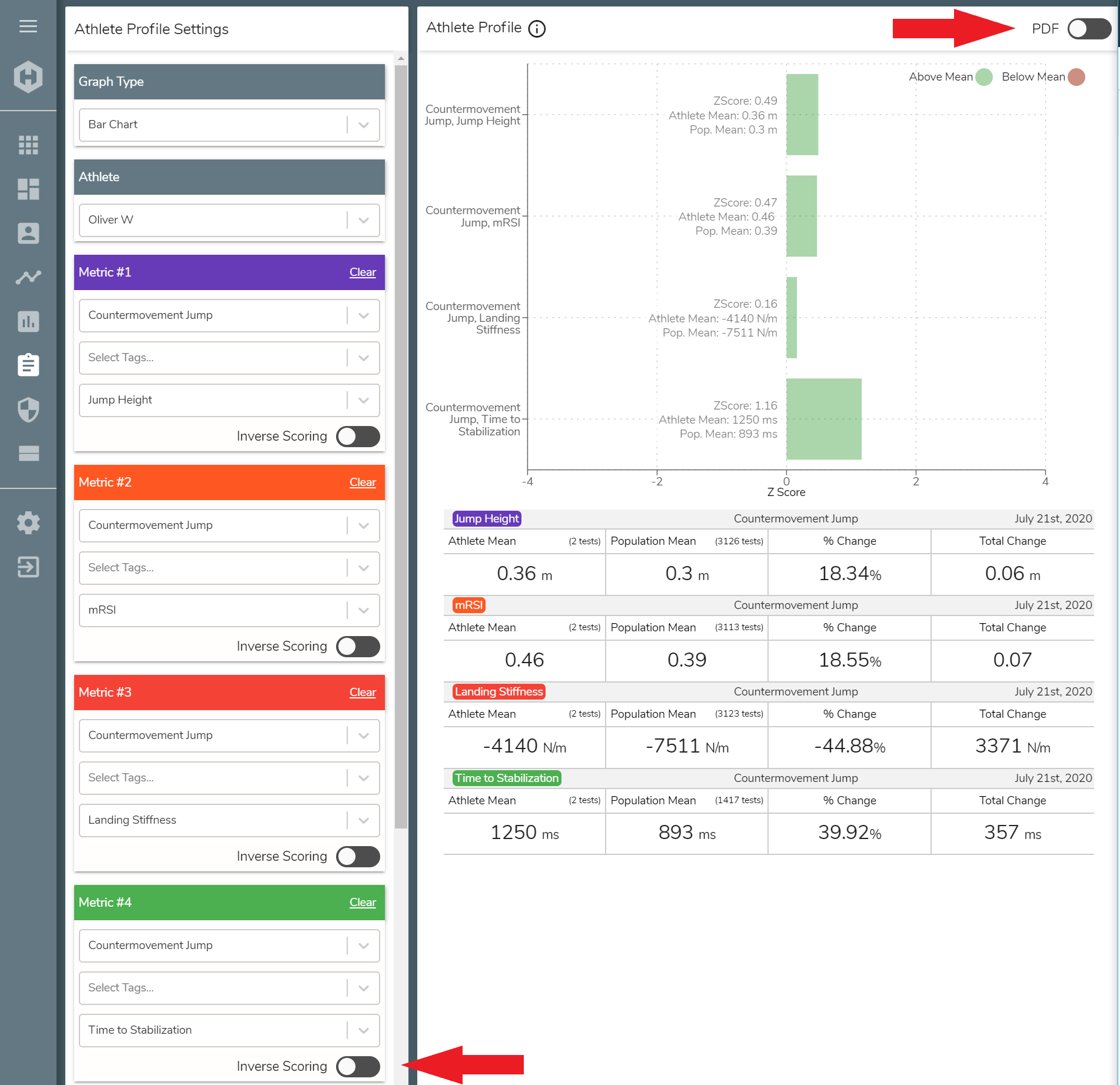 Comparison Report
To create a comparison report, select it from the navigation menu
Select the test type (CMJ, Squat Jump, etc.) and up to 6 metrics for comparison
Select the type of data set you'd like to compare (athlete, group, team) for Data set A, choose any tags, and pick a date range
Repeat step 3 for Dataset B
Your report will generate in table format with values for each metric for both datasets, % change, and total change
Click the PDF switch to format the document as a PDF, add notes, and download PDF