You can find simple definitions for each metric by going to the Hawkin Dynamics web app > selecting the menu bar in the top left corner > Settings > Metric Settings > Select a Test Type > Find the metric you are looking for and click on the "i" information icon.
When you click on the "i" icon a definition will appear for each metric.
1.

2.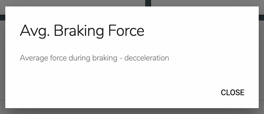 Want to learn more about each metric and which ones you should use for your team? Reach out to use at info@hawkindynamics.com to speak with our Director of Sport Science.